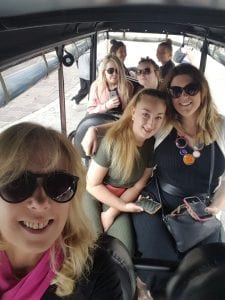 Krakow, Poland – Yvonne Murphy
Between bake sales and bingo, bag packing and a quiz night we had raised enough money to finally set off on our long awaited trip to Krakow, Poland.
For some students this was their first time on a plane. Youthreach will forever be remembered whenever their first flight stories arise.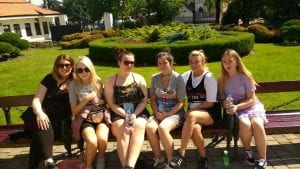 A beautiful summer's evening greeted us on our arrival and soon we reached our accommodation – a charming rustic old building set within an old courtyard dotted with age-old trees. We could not have asked for a better central location. We were two minutes from the famous busy and dynamic Main Market Square. The very square that houses the Tower of St. Mary from which a bugle call can be heard playing just past the hour, every hour. Echoing throughout the city was also sounds of an hourly and half hourly bell. However enchanting and historic these sounds were, they still demanded ear plugs when sleep time arrived!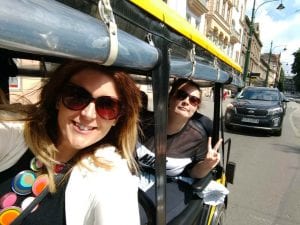 The following morning we visited Auschwitz Birkenau State Museum, the largest former Nazi concentration camp. We learnt about the Nazi program of "Abreit Macht Frei" famously proclaimed on the entrance gate and the genocide of World War II. We witnessed the gas chambers and barracks, sleeping quarters and poignant exhibitions of prisoners' personal belongings. No doubt that this is a very thought provoking, weary and melancholy place. A visit that will always be remembered.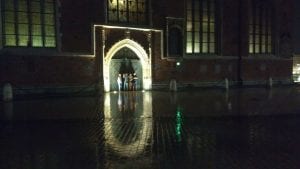 The next day we explored an UNESCO World Heritage site: Wieliczka Salt Mine. It is one of the oldest salt mines in the world, dating back to the 13th century. This unique underground complex houses chambers and chapels, where even chandeliers are made of salt crystals. It contains caverns and salt sculptures and also includes an underground lake. Today parts of the mine due to its therapeutic microclimate is also used as a retreat for people with lung ailments.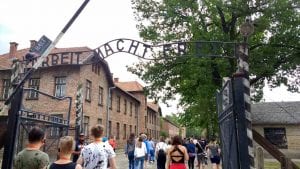 On our final day we zipped around Krakow in an electric golf buggy, called a Melex. Among many areas, we travelled through the Old Town and Jewish district of Kazimierz passing historic synagogues and a Jewish Ghetto. We viewed Oskar Schindler's factory where many Jewish employees were saved from deportation during World War II.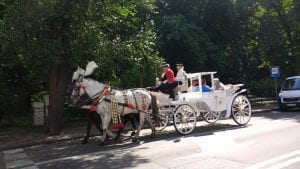 Finally no trip to Krakow would be complete without a visit to Inglot Cosmetics store.
There is so much to see and do in Krakow. We enjoyed a variety of restaurants as a group, lots of quirky shops and some home favorites, great market stalls and absorbed the beautiful and unique architectural buildings. The group we brought were fantastic. They were respectful and loads of fun. It was inexpensive and the weather was good too. What else could you ask for… except maybe the removal of the bugle during sleep time!!